CircularSeas
TURNING OCEAN PLASTIC WASTE INTO GREEN PRODUCTS FOR MARITIME INDUSTRIES
PROJECT CLOSING DAY on 1st December!
Check the green products developed by 3D Printing, from ocean plastic!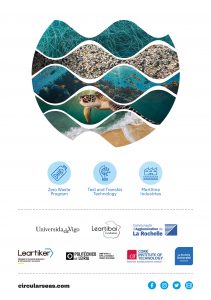 9H15 - 13H15
School of Industrial Engineering
University of Vigo
Streaming on UVIGOTV platform
Pre-registration
https://forms.office.com/pages/responsepage.aspx?id=gF-EVtYEjEKYqTRT7f-KHtgR_Wc9htxJmjbJBGE-7Q5UMkdIWEFXUk0xN1BQUTYzWjBZUDk3WjM5VS4u
A CircularSeas tem como objetivo a promoção da Economia Verde Atlântica, para adaptar e diversificar as atividades económicas aumentando o potencial crescimento verde, e reduzir o impacto ambiental no oceano.
Em geral o objetivo é promover o desenvolvimento de uma iniciativa ecológica em produtos verdes, peças e componentes  de 3 Indústrias Marítimas, através da combinação da tecnologia 3DP, uso de resíduos de plástico do mar e de novos polímeros de alto desempenho, renováveis e biodegradáveis
"Não consegues escapar a responsabilidade de amanhã, evitando-a hoje"
Abraham Lincoln