CircularSeas Closing Day – 1/12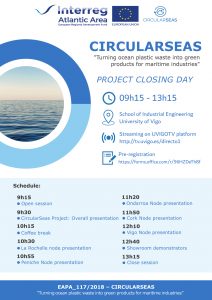 The international project CircularSeas is coming to an end, and with this, lot of developments were achieved. On 1st December please join the international committee of the project, which includes seven partners of the Atlantic area Leartiker S. Coop (Spain), University of Vigo (Spain), Leartibai Fundazioa (Spain), Cork Institute of Technology (Ireland), Polytechnic Institute of Leiria (Portugal), and Communauté d'Aglomération de La Rochelle (France).
Check the green products developed by 3D Printing, from ocean plastic!
Do your registration on https://forms.office.com/pages/responsepage.aspx?id=gF-EVtYEjEKYqTRT7f-KHtgR_Wc9htxJmjbJBGE-7Q5UMkdIWEFXUk0xN1BQUTYzWjBZUDk3WjM5VS4u
The event will be held in hybrid mode: on-site at the School of Industrial Engineering at the University of Vigo and via streaming.
The event will run from 9h15 to 13h15 where the members of the consortium will show all the results achieved during the European project, as well as a "Showroom" with the developments made.
Agenda:  https://drive.google.com/file/d/1uV1YQJdRvFYK_aQDyoQ0evYMoxFXl4bz/view
Upcoming workshops of the CIRCULARSEAS project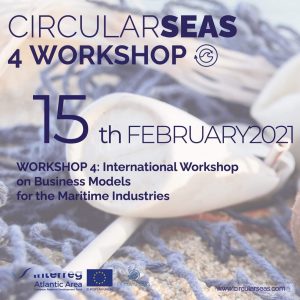 The next CircularSeas workshop will be held online on 15th of February.
CircularSeas aims at promoting the Green Economy by encouraging the development of eco-innovative or green products, parts and components for the Maritime Industries. The strategy is a combination of the Circular Economy Principles, with the use of Ocean Plastic Waste as a means to develop new green materials and the introduction of new greener materials, and the uptake of an advanced manufacturing technology, 3D printing, which is flexible enough to adapt to the manufacturing conditions required for new eco-innovative small and medium parts and components.
The target maritime industries are fishing, auxiliary fishing and aquaculture, shipyard and port management and nautical sports.
This workshop will bring together the nodes of the project across Europe in order to identify the production of parts for the Maritime Industries. There will be an opportunity to meet with those with experience in this field  and ensure your voice is heard in the development of the business case for recycled waste in Atlantic area.
The workshop will take place on line using Zoom. The details are listed below
Topic: Circular Seas Transnational Business Case Workshop
Time: Feb 15, 2021 02:00 PM Madrid (14:00 GMT PORTUGAL)
Join Zoom Meeting
https://us02web.zoom.us/j/88128595596?pwd=UE9ZL2p4TjVyRmswc21IbmxLVC9EQT09
Meeting ID: 881 2859 5596
Passcode: 460672
As this is a workshop involving nodes in Ireland, England, France, Spain and Portugal, the language of the workshop is English.
We look forward to seeing you online.
* The CircularSeas project is co-financed by the Interreg Atlantic Area Program through the European Regional Development Fund (ERDF) and aims to find strategies for the reuse of plastic waste obtained from the maritime industry.